Full title: "Worldwide Progression of Chinese Herbal Medicine into Healthcare System: An Integrative Model for the US."
Introduction
Traditional Chinese medicine (TCM) is a traditional medical system that has existed in China for thousands of years and is considered to include Chinese herbal medicine, Acupuncture, Tui na, Qigong etc. Modern development of TCM began in the 1950's when the Chinese central government initiated a TCM hospital system, wherein TCM and conventional Western Medicine could be integrated for doctors to learn from one another and provide patients with a combination of treatment modalities that assist one another for optimum clinical outcome.
Over the decades some countries have learned from this model and begun setting up similar TCM and Western medicine (WM) clinics and hospitals to provide WM treatments that are assisted with TCM strategies and vice versa. Integration of acupuncture therapy into WM appeared to be more readily acceptable by clinic or hospital. On the other hand, it has come a long way for Chinese herbal medicine to be accepted by WM. In this article, we examine this evolution of Chinese herbal medicine integration in the healthcare system by reviewing this model worldwide and in the U.S. We have spoken with some of the leaders who are helping to lay the groundwork for Chinese herbal medicine integration in the U.S. including Jipu "Dan" Wen, M.D. (China), President U.S. herbal distributor, TCMzone, LLC., Jamie Starkey, L.Ac., Lead Acupuncturist, Center for Integrative Medicine at Cleveland Clinic, and Eric Buckley, L.Ac. at Christus St. Vincent Hospital in Santa Fe, NM.
Here in the U.S. this model is still considered to be in its infant stages with only a few hospitals incorporating Chinese herbal medicine, so let's begin by looking at the worldwide development with Dr. Wen from TCMzone to gain a better understanding of the initiation of this concept and how its future is shaping up.
Interview with Dr. Wen
TCMzone
JK: Dr. Wen, thank you for talking with us for this piece, can you introduce yourself to our readers and tell us how you became involved in Chin
ese herbal medicine?
DW: I have over 30 years' experience in TCM and integrative medicine. I graduated from a Chinese medicine school in China with a degree in integrative medicine in the 80's. I then worked on faculty at Guangzhou TCM University and came to the US in the early 90's where I held research positions at Mayo Clinic and Washington University St. Louis in gastroenterological and nutritional research. My experiences in both traditional and modern medicines led me to work in the integrative medicine industry focusing on bringing pharmaceutical grade herbal medicine to US healthcare practitioners since 2000. Over the past decade, I have seen significant increases in healthcare institutions integrating acupuncture practice into their therapies, and recently am witnessing Chinese herbal medicine getting its foot in the door of these hospitals. I see this as a critically important development.
Chinese Medicine co-exists with Western Medicine in China's healthcare system
JK: With this recent introduction of Chinese herbal medicine into U.S. hospitals, I'm curious what can be learned from how Chinese herbal medicine is practiced in China's healthcare system. Can you explain the format in China?
DW: Chinese herbal medicine and acupuncture are the most important aspects of TCM in China. Historically, TCM has been practiced in private herbal pharmacies operated by practitioners as family tradition for thousands of years. In 1954, China introduced hospital style TCM practices and has since become a significant part of their healthcare system. In the 1970's, "integration of Chinese and Western medicine" was advocated by the Chinese government to encourage TCM and western medicine practitioners to learn from each other to improve their medical practices. In the modern era, there are three styles of medical practices, WM, integrative Western and Chinese medicine (IM), and TCM. The majority of WM hospitals have a TCM department, while TCM hospitals incorporate WM, IM and TCM practices at different levels of involvement, but mostly emphasizing on TCM. TCM doctors working in hospitals have training and access to WM diagnosis and treatment tools in both Chinese herbal medicine and WM drugs. Chinese herbs are categorized as raw herbs (生药) with compounding granule herbs (配方颗粒剂), classical patent herbs (中成药), and newly approved herbal medicines (中药新药), most of these herbal preparations have been used under prescriptions or over the counter medications (OTC). In 2017, China's total number of TCM hospitals reached 3,695 or 12% of the total number of hospitals.1 The unique TCM hospitals have played an important role in China's healthcare system. It has preserved the Chinese medicine tradition and cultural heritage, expanded usage of Chinese herbal medicine among the mainstream population, enhanced healthcare in many areas that WM may prove inefficient, particularly in functional and chronic conditions, and lowered the costs of medical care to reduce the burden of overall healthcare in the nation.2
Development of Chinese herbal medicine in healthcare system around the world
JK: What can you tell us about other models around the world?
DW: The TCM models that have been established differ significantly around the world. China's model is currently the most sophisticated in terms of utilizing herbal medicine in the healthcare system. But other countries are definitely catching up.
Since the 1960's Japan's Ministry of Health, Labour and Welfare started approving some traditional Chinese medicine formulas (also known as Kampo medicine) to be ethical drugs in Japan. Today, 210 of these classical formulas have been approved as category 2 prescription drugs (mostly in the forms of standardized granules) and over 80% of Japan's medical doctors working in public hospitals and universities have prescribed Kampo medicine in Japan's healthcare system. Interestingly, there are only 2,420 board-certified Kampo doctors among the 280,000 licensed physicians in Japan.3 Unlike China where Chinese herbal medicine is mostly prescribed by TCM doctors who also prescribe WM drugs, Japan's MD's and pharmacists are the ones only allowed to prescribe Kampo medicine with their National Health Insurance system reimbursing the usage of Kampo. Acupuncturists, on the other hand, are not allowed to prescribe Kampo medicines that are categorized as ethical drug.
In Europe, Germany is leading the integration of Chinese herbal medicine into the healthcare system. In 2016, I had the pleasure to visit Germany's first TCM hospital "TCM-Klinik Bad Kötzting", an integrated medicine institute established in 2010. The hospital has 80 beds and teams of TCM doctors from Beijing and local medical doctors working side-by-side to treat over 1000 inpatients a year with an average 3-4 week hospital stay. This is also the first TCM hospital in Germany to be approved by health administration and the only TCM hospital in Europe that insurance companies reimburse for all TCM care. The in-house herbal pharmacy carries hundreds of raw herbs that are imported from China under what's possibly the most scrutinized quality standards. Patients admitted in the hospital receive true integrative medical care with WM (including medical doctors, psychologists, nutritionists, physical therapists) and TCM (including customized Chinese herbal medicine, acupuncture, medical Qigong, Tui na, etc.).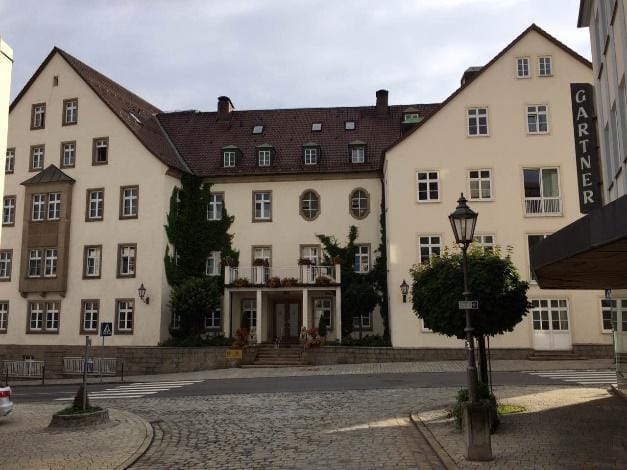 Chinese herbal medicine in US hospitals
In the US, although acupuncture treatment has long been accepted by hospitals, with many acupuncturists working inside hospitals to help specific health conditions such as pain, Chinese herbal medicine has only been introduced into a few hospitals in recent years utilized by acupuncturists as providers in these hospitals. I'm happy and humbled that TCMzone, as a leading high-quality herbal product company, has been actively involved with these hospitals including Cleveland Clinic and Christus St. Vincent Hospital in Santa Fe, NM in providing herbal formulas to fulfill the increasing demands of Chinese herbal medicine by practitioners and their patients. On the other hand, it will understandably take a long time and cooperative efforts for practitioners, education institutions, insurance companies and herbal medicine suppliers to achieve wider usage of Chinese herbal medicine in the US healthcare system. The current practice of herbal medicine by acupuncturists working inside the healthcare system as the main providers may approve to be the future US mode.
JK: Thank you Dr. Wen. This is all very encouraging information for the state of TCM as a therapy in western hospital settings here in the U.S. As stated above, there are currently only a few hospitals in the U.S. that utilize traditional Chinese herbal medicine in their facilities. One of these hospitals is the highly revered, Cleveland Clinic, named a top U.S. hospital in U.S. News & World Report's "2018-19 Best Hospitals". Another is Christus St. Vincent Hospital in Santa Fe, NM, voted a four-star hospital from the Centers for Medicare and Medicaid Services. We had the opportunity to speak with lead Acupuncturists at both Cleveland Clinic, Jamie Starkey, L.Ac., and Christus St. Vincent, Eric Buckley, L.Ac. who've shared insight on how these leading hospitals are integrating TCM into their healthcare therapies, including Chinese herbal medicine, and how they see the future of TCM developing in hospitals in the U.S.
Interview with Jamie Starkey, L.Ac.
Cleveland Clinic Wellness Center
JK: Jamie, thank you for speaking with us for this article. Can you start by telling us a bit about your background and experience at Cleveland Clinic?
JS: Certainly. I am the manager of the Eastern medicine program and lead acupuncturist at Cleveland Clinic's Center for Integrative and Lifestyle Medicine. I hold a bachelor's degree in biology, and a master's level degree in acupuncture. I was able to enhance my training by completing a clinical internship at Guang An Men Hospital (Beijing, China) in Acupuncture and Moxibustion Outpatient Department, an affiliate of the China Academy of Traditional Chinese Medicine. I offer acupuncture with a focus on sports-related injuries, women's health, oncology, acute/chronic pain management and stress-related disorders.
JK: Cleveland Clinic has been using herbal dispensary from a third-party vendor for more than three years. What was the reason that you decided to make Chinese herbal formulas directly available on campus to patients?
JS: We have two separate Chinese herbal offerings. A third-party vendor compounds our custom-blended Chinese herbal formulas based on a sound TCM diagnosis. We also decided to keep a limited inventory of patent Chinese herbal formulas on hand for patients who fit a specific diagnosis and TCM pattern. The patent formulas are more accessible so we can start patients on an herbal formula with more ease.
JK: What forms of Chinese herbs are currently available through Cleveland Clinic?
JS: For custom formulas, we use granules that are either encapsulated or in powder form. For patent formulas, we have granules that are sealed in individual packs.
JK: What is the overall feedback you are receiving on the Chinese herbs?
JS: If a patient is compliant in taking the Chinese herbal formula, we generally see favorable outcomes. Our safety record, based on the model we have established here at Cleveland Clinic, is outstanding. We have a safety outcomes research registry that captures safety data. We are particularly interested in kidney and liver function while on Chinese herbal formulas. It's been positive for the patient and the clinician.
JK: That's great to hear. How do your staff integrate herbal preparations with acupuncture treatment? Do you think having herbs available to your patients helps their clinical outcomes?
JS: Patent Chinese formulas are available and convenient, especially for patients who fit clear patterns. Some patients show better clinical outcomes if acupuncture is coupled with patent or custom herbal formulas.
JK: How do you ensure quality and safety of the Chinese herbs you offer at Cleveland Clinic?
Our vetting process is long and detailed. We thoroughly review the manufacturing companies so that we use the highest quality herbal formulas. We also do routine lab work on patients to monitor liver and kidney function, further ensuring safety.
JK: Can you elaborate a little bit on your thoughts on the future of Chinese herbal medicine usage in the healthcare system in the U.S.?
JS: Western clinicians are governed by clinical data so research in the field of Chinese herbal medicine, especially multi-herb formulas, are critical in order for herbal medicine to continue to gain acceptance.
Physicians raise questions and concerns about the safety, quality and efficacy of Chinese herbs in addition to concerns surrounding drug-herb interaction. The burden is on us to provide this data.
Our Chinese herbalists have generally experienced an overall positive response from physicians who are willing to bring Chinese herbal medicine into a multi-disciplinary approach to patient care, but we have to constantly build confidence by way of presenting clinical and safety data in addition to showing positive clinical outcomes from our TCM providers.
My hope is that we will see a steady increase in Chinese herbal medicine usage in hospitals and healthcare systems nationwide, but I do think it will take many years to fully establish a presence.
JK: Thank you Jamie for being a part of this piece and for all of your great work at Cleveland Clinic.
Interview with Eric Buckley
Regional Cancer Center at Christus St. Vincent Hospital in Santa Fe, NM
JK: Eric, please tell us about your background in TCM and your current position.
EB: Sure. I am a New Mexico licensed Doctor of Oriental Medicine (DOM) and founder of the Integrative Medicine Department for Christus St. Vincent Hospital in Santa Fe, New Mexico. I work closely with the Palliative Care Department, treating mostly cancer patients and patients with advanced chronic disease. I have trained extensively in Asia, attending training programs at the National Hospital of Traditional Medicine, Ha Noi, Viet Nam and Kyung Hee University, Seoul, South Korea and Keio University's Center for Kampo Medicine, Tokyo, Japan.
I have worked widely as an advocate for the profession, from state associations, to national and international organizations. I am currently a board member of the High Desert Hari Society and Chair of their Kampo Medicine Committee, a founding board member of the American Society of Acupuncturists (ASA), representing acupuncturists to the American Medical Association's CPT Editorial Committee, and Chair of the U.S. delegation of the International Standards Organization's Technical Committee 249: Traditional Chinese Medicine (ISO/TC249).
JK: How long have you been providing Chinese herbs through Christus St. Vincent? What was the reason that you decided to make Chinese herbal formulas directly available on-site to patients?
EB: We have been prescribing herbs at CSV Regional Medicinal Center for 8 years, since I started this program in 2010. I decided to have the pharmacy on-site because I was trained in herbal pharmacy management in school, and I learned the benefits of having the herbs available at my fingertips. I can modify formulas as I see fit and can change a prescription to a different formula instantly if I deem a change in pattern has happened, or if I think a different formula is better suited to the patient. The patient doesn't have to wait, and I can reduce the variables in the continuity of care by having a patient start a formula immediately.
JK: What forms of Chinese herbs are currently available through Christus St. Vincent?
EB: I prescribe different forms of herbs for different patients, depending on many factors. The bulk of what I prescribe is granular herbs. I prescribe classical Chinese formulas and single herbs, Japanese Kampo granules and I use encapsulated granules for my more delicate patients who may not be able to drink tea easily for various reasons. I also use topical formulas for trauma. I do not prescribe raw herbs in the hospital for many reasons, space being one of the primary reasons, and poor patient compliance being the other.
JK: What is the overall patient feedback you are receiving on the Chinese herbs?
EB: Most patients love herbal medicine, some do not. I always find out in the first visit if a patient is open to herbal treatment, if I think they are a suitable candidate. Some patients find the herbs to be cost prohibitive, despite our prices being very reasonable. I do whatever I can to make sure I can get herbs to a patient who may benefit from them. Because I don't personally make money on the herbs, and it is not considered to be a profit center for the hospital, we are able to provide formulations to patients who would not be able to afford them otherwise.
JK: How do you integrate herbal preparations with acupuncture treatment? Do you think having herbs available to your patients helps their clinical outcomes?
EB: For some conditions, I believe they are essential. For others, I believe they may be optional or not necessary. I tend to manage musculoskeletal conditions without the use of herbs, relying more on acupuncture. There are many internal medicine conditions that I believe are better managed with herbs and relying on acupuncture solely would be a more difficult and lengthy course of treatment.
I give granules at standard dosage amounts for people to take 2-3x a day. As with any medication or supplement they are only as effective as the patient is compliant. I find that providing granules gives the most convenience for the patient, while getting as close as possible to the dosage strength of raw herbs. Convenience for the patient increases compliance, which increases overall effectiveness of prescription.
JK: How do you ensure the quality and safety of the Chinese herbs you offer at Christus St. Vincent?
EB: I have policies and procedures that I work under that I created when I sought permission to prescribe herbs to our hospital patients. All compounding equipment is regularly cleaned and sanitized. All herbs are stored in a designated clean and dry space that is climate controlled. Herbs that come from our pharmacy are only prescribed by licensed providers with an educational background in herbal medicine. All ingredients are of the highest quality and are obtained from a source that I have deemed safe and reliable based upon my professional judgment. I will routinely ask for Certificates of Authenticity (COAs) from my vendors. Being educated in both single herbs identification and formulas, I am familiar with the specific odor of single herbs and compounded formulas and makes while preparing them for patients. An herbal compounding record of each formula is kept at the clinic. All formulas prescribed follow standard common dosages of herbs. Any modifications to formulas are documented in the compounding record. All formulas are recorded in the patient's chart. All formulas prescribed are labeled clearly with instructions and our clinic's contact information.
JK: Can you elaborate a little bit on your thoughts on the future of Chinese herbal medicine usage in the healthcare system in the U.S.?
EB: The ability to treat chronic conditions is the healthcare challenge of the 21st century. Western medicine, while excellent at emergency medicine, is still challenged to find successful ways to manage chronic conditions. While western medicine has developed the new specialty of "functional medicine", a lot of the approaches are still new. Chinese herbal medicine and dietary therapies are the original functional medicine. The Shang Han Lun and Jin Gui Yao Lue, being historically of the first books of clinical medicine, still provide us with sound approaches to not only chronic disease management, but also infectious disease. I believe that patients are getting fed up with the side effect profiles of western pharmaceuticals. They are looking for a more balanced, holistic and effective approach to their health needs. Chinese herbal medicine provides sound solutions where western pharmaceuticals either can't approach or even worse, complicates.
JK: It's very inspiring to view the progression of TCM from its thousand-year old origins in family run pharmacies in China evolving into granule herbs and patent formulas integrated into healthcare therapies at some of the top hospitals around the world and in the U.S. The integrative medicine models that began in China have been expertly developed into Japan's WM healthcare system, and as standalone TCM hospitals in Germany. In the US providers of TCM herbs have been predominantly licensed acupuncturists, however, with the usage of herbal medicine in such renowned hospitals as Cleveland Clinic and Santa Fe's Christus St. Vincent Hospital, the U.S. is helping to expand the demand and acceptance of TCM by ensuring the safety and validating the efficacies of TCM modalities, including acupuncture treatment and herbs with patients' overall outcomes. While there is still much growth to happen in fully integrating TCM and WM, the groundwork by individuals such as the ones interviewed in this article is a great starting point.
Many thanks to our contributors on this article, and their perspectives and viewpoints on TCM development in western hospitals in the U.S.
References
Data from China's Health Administration publication
Wang, L., et al.: An investigation Into Traditional Chinese Medicine Hospitals in China: Development Trend and Medical Service Innovation. Int J Health Policy Manag 2017, 6(1), 19–25.
Katayama, K., et al.: Prescription of Kampo Drugs in the Japanese Health Care Insurance Program. Evidence-Based Complementary and Alternative Medicine. Volume 2013, Article ID 576973