Full title: "Integrated Acupuncture Services at Employer-Sponsored Health Centers Improve Access to Care at Reduced Cost." 
ABSTRACT
Background: Musculoskeletal complaints represent a top health care expense for employers and are the leading cause of long-term disability. Employers bear a disproportionate share of the costs of this care.
Methods: We integrated acupuncture services into 11 employer-sponsored health clinics offering physical therapy, chiropractic care, primary care, and behavioral health services. We performed a retrospective cohort analysis of the members seen in 2018 to evaluate the access, satisfaction, costs, and opioid use among patients receiving acupuncture delivered in an integrated, employer-sponsored clinic.
Results: Integrating acupuncture services in employer-sponsored clinics resulted in 8991 visits by 1790 members, mostly for musculoskeletal issues. Only 10% of members received acupuncture services alone, whereas 90% also received care by at least one other type of provider. Less than 3% of members without cancer received opioid prescriptions in employer-sponsored clinics compared to 20% in the community. Patients receiving acupuncture were highly likely to recommend integrated employer-sponsored care (NPS=92).
Conclusion: Our findings suggest the robust clinical and economic benefits of integrating acupuncture services into employer-sponsored clinics.
BACKGROUND
In 2015, approximately 124M adults in the United States suffered from a musculoskeletal condition, while the average annual direct cost for musculoskeletal care between 2012-2014 was approximately $980B.1 In addition to the escalating medical expenditure on musculoskeletal care, employers are also exposed to other musculoskeletal-related disability costs. In 2017, musculoskeletal issues were the leading cause of both short- and long-term disability. The annual short-term disability payment by employers per musculoskeletal claimant was $5689 (with an average disability time frame of 77 calendar days or 49 workdays) and the annual long-term disability payment per claimant was $13,052.
To address rising health care costs and to improve care, employers are increasingly seeking solutions that provide their employees with rapid access to high-quality care, such as onsite health centers.2 Although approximately one-third of large employers offer onsite clinical care,3 very few have included acupuncture with onsite primary care.4
The purpose of this study is to describe our experience providing acupuncture in employer-sponsored health centers that integrate comprehensive physical medicine with primary care and behavioral health. We present the results of our evaluation of employee access and satisfaction and the costs associated with these integrated acupuncture services.
METHODS
Patients and Data Collected
Patients
We performed a retrospective evaluation of all patients (aged > 19 yrs) seen in Crossover Health integrated acupuncture departments at 11 employer-sponsored clinics in the US between January 1, 2018 and January 1, 2019.
Data Collected
We used the electronic health records to determine which type of practitioner cared for each patient and to assess opioid use in the employer-sponsored health centers. Furthermore, we used aggregated health care claims across multiple employers in multiple geographies to assess opioid use in the community. We emailed patients a satisfaction survey after their first visit and every fourth subsequent acupuncture visit. The satisfaction survey includes four questions pertaining to the member's experience of their care (e.g., "Provider listened carefully to me", "I am confident in the quality of care provided") and one item to assess the net promoter score (NPS) (on a scale from 0 to 10, "How likely is it that you would recommend the Crossover Clinic to a friend or colleague?").
Since all data used in this analysis are routinely collected on all patients cared for by clinicians in the employer-sponsored health centers, this study was exempt from IRB approval.
Care Delivery Model
Crossover Health has been providing patient-centered outpatient primary care integrated with physical therapy, chiropractic services, health coaching, massage therapy, and behavioral health for corporate clients since 2011. Acupuncture was included in the offering in 2012 and is now provided in 13 onsite and near-site health centers in locations across North America. The model of integrated care includes several key elements (e.g., provider mix and center design, care coordination processes, technology, provider payments, etc.) designed to remove barriers to accessing services and improve communication and coordination among all providers.
Provider Mix and Center Design
Our model of care consists of groups of providers, each working within their own sub-specialty while referring and collaborating closely with other team members. The close relationship among the team members coupled with unique facility design that co-locates all providers is the "secret sauce" of our integrated care delivery model. (Figure 1 previously published in the Journal of Occupational and Environmental Medicine.5)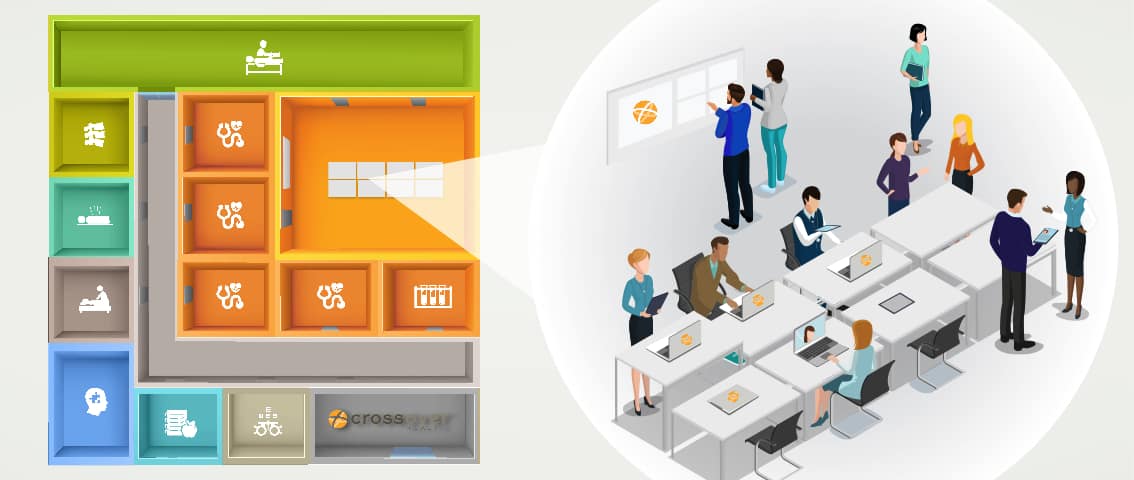 Figure 1. Schematic of the physical space design that integrates primary care, behavioral health, physical medicine, acupuncture, and other outpatient services at employer-sponsored clinics. (Note: This schematic depicts the design of the physical space of the integrated clinics.) The central "Bullpen" is a large open seating area where physical therapists (green) sit alongside chiropractors (chartreuse), acupuncturists (aqua), primary care providers (orange), behavioral health providers (blue), optometrists (gray), and others (e.g., health coaches, dieticians, nurses). Around the Bullpen are smaller rooms, customized for each provider type for private discussion (Note: The colors of the providers' clothing in the Bullpen represent the specialties depicted in the floor plan schematic). There are also areas with shared supplies, medications, and laboratory/other equipment.
The strength of this integrative model lies in the ability for different providers to effectively communicate and collaborate on a daily basis on each case to understand each other's strengths, refer when appropriate, and continually educate each other and our patients about our different disciplines and approaches to health. Co-delivered group classes on topics such as posture basics, mindfulness, fertility education, mindful eating, and diabetes prevention are offered by integrated clinical staff. Patient outreach events, such as lunch-and-learns and educational webinars, are additional services we jointly provide to effectively reach our member base.
Care Coordination Processes
Within the care team, the primary care providers "quarterback" much of the care, coordinating the majority of external specialist referrals and lab draws and providing medication management. However, many patients' first experience at the clinic occurs via an ancillary service, such as acupuncture, physical therapy, or behavioral health, whereupon those providers may offer referrals to other team members. The "warm hand-off" experience, where one provider physically introduces a patient to a new provider on their care team, is a particularly powerful way to support a patient's sense of continuity of care.
At Crossover, we have many providers with training to address the same pathology. For example, a lower back pain patient may have an initial appointment with the chiropractor, who then offers the patient a manual therapy intervention and some education. Finding active trigger points, the chiro might then refer the patient to the acupuncturist/Chinese Medicine Practitioner (CMP) to reduce these quickly with acupuncture. The CMP might, in turn, refer to the physical therapist or group posture class for postural reeducation. In such cases, patient preference guides referrals. If a patient has had a positive experience with one discipline and would like to try it again, this provides us with the opportunity to introduce them to our care team from a familiar angle.
If there are red flags, such as sensory or motor loss, the MD becomes involved immediately, often with a same-day referral. If psychosocial factors predominate, a health coach or LMFT would also be engaged. This team-based approach allows CMPs to function in the holistic capacity our training has prepared us for, but with recourse to highly trained providers within our group for more complicated issues that fall within their specific scope.
Technology
CMPs share an electronic health record with all other providers, facilitating ease of cross-disciplinary perspectives and coordination. Custom secure patient portal software allows members to self-refer to any provider in the system and to track HIPAA compliant communications between providers and patients. The portal also offers patient health self-assessment and trends tracking, as well as the capacity to upload images and labs. Plug-ins to the patient portal include web-based tools for patient education, lifestyle recommendations, and exercise prescriptions.
Documenting the patient encounter is accomplished with custom-designed templates that help CMPs meet highest standards and maintain consistency across multiple providers and locations. Since there is no motive to "up code" to increase compensation, all acupuncture visits are coded with the same 97810 CPT code. ICD10s are associated with each visit to facilitate data analysis.
Provider Payments
Providers are either salaried or paid a flat hourly rate. Net promoter score (NPS) and patient satisfaction are the primary metrics used to assess provider performance. This payment and provider evaluation model incentivizes value-based practice patterns as opposed to fee-for-service models common in the community. Moreover, this payment model facilitates intradepartmental referrals.
Role of Acupuncturists at Crossover Health
The CMPs within Crossover have traditionally had a close relationship with the Physical Medicine (PM) team, as acupuncture was initially included in the model primarily for the relief of musculoskeletal complaints. The delivery of acupuncture shares common features with the other PM providers (Chiropractors, Physical Therapists, Massage Therapists, and Fitness Trainers), insofar as our intervention frequently entails a course of treatment, often on a weekly basis, and involves extensive, hands-on patient interactions.
As the volume of patients seeking acupuncture has grown, CMPs have gradually expanded their role, treating patients for many chief complaints besides pain, including stress, anxiety, and insomnia. CMPs are uniquely suited to evaluate the relationship between different symptomatic manifestations, apply acupuncture treatment to address them, and make appropriate referrals. As the CMP practice has evolved within the Crossover model, patients and providers have come to understand more about traditional Chinese medicine (TCM).
Orthopedic approaches to acupuncture and "dry needling therapy" (DNT) represent an area of focus for our group, and we have made a strong case that CMPs are the most highly qualified professionals for administering this needle-based therapy. We offer internal Continuing Education Unit (CEU) classes so that our CMPs can learn and refine their skills in this discipline.
Scope of Acupuncture Practice
We aim to deliver a comprehensive scope of acupuncture services within the employer- sponsored health centers. Needling, E-stim, cupping, gua sha, tui na, and extensive counseling on topics such as diet and sleep are very common services. Heat therapy (either via IR heat lamp or hydrocollator), topical liniments (e.g., Zheng Gu Shui, Po Sum On), and ear seeds are also frequently provided.
No type of wet-cupping or deliberate bleeding techniques are permitted according to California law, although the cutaneous prick needling of certain points falls within acceptable practices. Moxibustion is also not supported, due to environmental sensitivities and concerns about open flames. CMPs do not directly order labs or imaging, but can refer to the onsite MD, as necessary.
At one health center, we have an onsite herbal capsule formulary, and we are currently piloting a program offering drop-shipped herbs to patients. Given the large knowledge gap between acupuncturists and other providers regarding the safety and efficacy of herbal medicine, the resistance expressed by some members of the medical team has not been surprising. We have found that with patience, education, and the building of trusting relationships across the disciplines, our multidisciplinary team is reaching a consensus about the best practices of herbal therapies.
Peer and Patient Education
Operating in a multidisciplinary clinic involves recognizing that educating providers and patients is an ongoing part of the work. Within acupuncture peer circles, it can be easy to forget that Chinese medicine and acupuncture are still considered fringe therapies by the majority of the population, including other health care providers. The biomedical model of care does not have an easy pigeonhole for CMPs who exist between the disciplines of primary care, physical medicine, and mental health. This is why ongoing education is so important.
Fortunately, the fundamental philosophy of Crossover's care delivery model is all about offering minimally invasive preventive health, getting patients off unnecessary medications, avoiding unnecessary procedures and imaging, and creating an environment where patients are empowered to improve via lifestyle changes. Clearly, these priorities resonate with the core tenets of TCM; therefore, the focus of provider education can shift to clarifying how TCM addresses these priorities, rather than convincing a team accustomed to pushing meds and surgeries that alternatives exist.
Acupuncture providers who are flexible and open-minded when it comes to allopathic care and eager collaborators are a good fit for this model. The willingness to work together, educate, and listen can make the difference between an impaired collaborative care effort and a two-way learning opportunity.
RESULTS
Care Delivered
Between January 1, 2018 and January 1, 2019, 1790 patients received acupuncture services (during a total of 8991 visits). Their average age was 37 years (SD 9.9 yrs), and 59% were women. Most patients received care for musculoskeletal complaints (Table 1).
Table 1. Diagnoses of Patients Receiving Acupuncture Services
| Diagnoses | N | % |
| --- | --- | --- |
| Neck pain | 330 | 10.7% |
| Low back pain | 283 | 9.2% |
| Shoulder pain | 193 | 6.3% |
| Other musculoskeletal complaints | 540 | 17.5% |
| Stress | 162 | 5.2% |
| Insomnia | 130 | 4.2% |
| Misc. Ob-Gyn complaints | 129 | 4.2% |
| Misc. Respiratory complaints | 105 | 3.4% |
| Misc. GI complaints | 87 | 2.8% |
| Other | 1131 | 36.6% |
On average, patients attended 5.5 visits (SD 5.7 visits) (Figure 1).
Figure 1. Number of Visits per Patient Receiving Acupuncture Services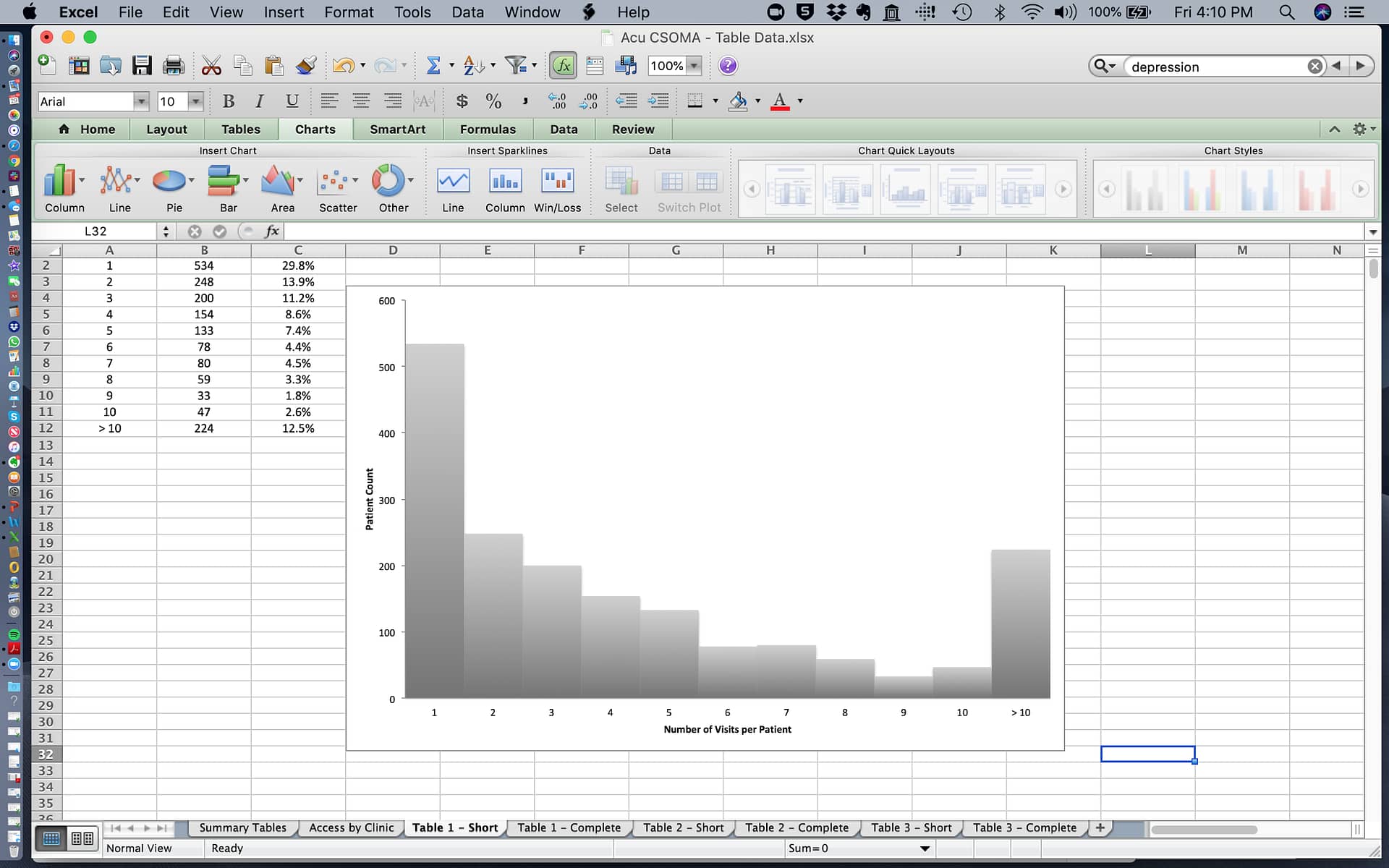 Integrated Care
In our integrated care setting, 10% of patients were cared for exclusively by CMPs while 90% were cared for by providers in at least one other department (Figure 2).
Figure 2. Distribution of Care Across Integrated Departments
Access
Some of the health centers have a high utilization of acupuncture services, whereas others have less. Thus, it is not surprising that the number of days between when a member initially sought acupuncture services and when they had their first appointment ranged from 6 to 23 days (median, 12 days; median absolute deviation, 14.9 days), in contrast to wait times exceeding 6 weeks in integrated hospital settings6 and a mean of 15.9 days from referral to service in practices that integrate acupuncture services into General Practitioner settings.7
Patient Satisfaction
Members delight in the care they receive from the acupuncture services, reporting over 93% satisfaction and net promoter scores of 92.
Opioid Use
Our primary care providers tend to refer patients with non-cancer pain to acupuncture and physical medicine. Our patients received far fewer opioid prescriptions than is typical in the community (2.8% (1 in 36)5 compared with 20% (1 in 5 in the US8)). Notably, the preponderance (70%) of opioid prescriptions in our population were for cough suppressants.
Cost
The maximum copay for patients is $40 per visit, though it is often significantly less expensive, depending on their employers' health benefit program. This compares to average out-of-pocket fees of $75 to $125 in the community for similar treatments.9
DISCUSSION
In the 6 years since acupuncture has been integrated into the Crossover model, the frequency of patient visits, scope of practice, and respect from other providers has grown dramatically. Patients are seeking care for an increasingly large number of diagnoses, although musculoskeletal complaints remain the most commonly treated conditions, and they seem highly satisfied with the care received.
The integrated model enables patients to directly schedule visits with any provider and facilitates cross-disciplinary referrals, thereby dramatically improving access to acupuncture services. We believe that access to acupuncture services is a key contributor to reducing opioid use in our health centers. Additionally, these services are available to patients at a considerable cost savings compared to fees they would pay in the community.
There are several key challenges that CMPs in the Crossover model are actively addressing. First, we are seeking to add greater methodological rigor to our outcomes assessments. Specifically, we are planning evaluations to determine the extent to which acupuncture is associated with greater improvements in musculoskeletal pain control, triglyceride levels, blood pressure, and weight. Additionally, we are testing validated patient-reported outcomes tools (e.g., MYMOP) to more systematically capture the multi-faceted effects of an acupuncture intervention on patients' concerns, and exploring HRV monitoring devices as a biometric approach to measure stress reduction.
Second, as health care transitions from face-to-face visits to more virtual care, we are seeking ways to serve our patients remotely. For a modality so intrinsically based on actual, physical contact and interventions, this adaptation is a challenge. However, as CMPs, many of our diagnostic steps can be done via inquiry and using the limited observational information we can gather from a video visit, for which we have a host of lifestyle recommendations that can be made without being in the same room as the patient. We can also leverage communication technologies to assist in follow-up with patients.
Finally, a view towards efficiency is crucial to keeping acupuncture services included in the practice. This means that although we have no hard limits on patient visits per annum or per condition, we do not cultivate patient "regulars," with no determinate endpoint in their treatment plans. While we recognize that ongoing acupuncture treatments can be a vital part of many patients' lives, there is not currently room within the Crossover model to absorb these patients as a significant proportion of our patient panels. In our environment, best practice is referral to another internal provider for an additional perspective or referral to an outside practice where patients can receive treatments at a higher frequency. We are looking to adapt our model to better accommodate more ongoing/palliative/chronic care patients in the future.
REFERENCES
1. United States Bone and Joint Initiative. The burden of musculoskeletal diseases in the United States (BMUS). https://www.boneandjointburden.org/. Accessed March 29, 2019.
2. Nobel J, Sherman C, Sasser E, Pickering L. Preventing and treating musculoskeletal disorders: new strategies for employers. New York, NY: Northeast Business Group on Health;September 2017.
3. Mercer. Employers continue to launch worksite clinics despite ACA uncertainties — Mercer survey. Mercer Survey on Worksite Clinics. Newsroom Web site. https://www.mercer.com/newsroom/employers-continue-to-launch-worksite-clinics-despite-aca-uncertainties.html. Published September 8, 2015. Updated 2015. Accessed April 24, 2018, 2018.
4. National Association of Worksite Health Centers. Results of 2014 national survey of onsite clinic operations and policies. https://www.nawhc.org/files/assets/Whitepaper%20on%20Results%20of%202014%20National%20Survey%20of%20Onsite%20Clinic%20Operations%20and%20Policies%20Report%2012-30-14.pdf. Published December 2014. Accessed April 24, 2018, 2018.
5. Lord DJ, Wright JR, Fung R, et al. Integrated Physical Medicine at Employer-Sponsored Health Clinics Improves Quality of Care at Reduced Cost. J Occup Environ Med. 2019.
6. Highfield ES, Longacre M, Chuang Y, Burgess J. Does acupuncture treatment affect utilization of other hospital services at an urban safety-net hospital? J Altern Complement Med. 2016;22(4):323-327.
7. Cheshire A, Polley M, Peters D, Ridge D. Is it feasible and effective to provide osteopathy and acupuncture for patients with musculoskeletal problems in a GP setting? A service evaluation. BMC Fam Pract. 2011;12(49):1-10.
8. Daubresse M, Chang H, Yu Y, et al. Ambulatory diagnosis and treatment of nonmalignant pain in the United States, 2000-2010. Med Care. 2013;51(10):870-878.
9. OkCopay. Acupuncture costs in the USA. http://www.okcopay.com/map/acupuncture-cost. Published 2017. Accessed March 29, 2019